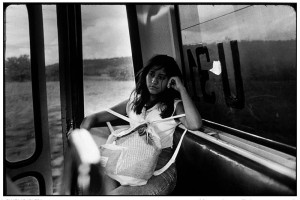 ©Victor Sera
GO TO: http://www.fiftycrows.org/index.php#mi=2&pt=1&pi=10000&s=1&a=7&p=0&at=3
This is a photo essay on the lives of the undocumented as they navigate between their homes and their country chosen for work.
In some ways the "landscape," of this document has changed since it was photographed in the 1990's. The immigration interdiction efforts by the United States has reduced the number of migrants and, more recently, the lack of jobs in the U.S. due to the faltering economy has reduced it even further. The personal plight for migrants in the U.S. has changed for the worse, making any return to the mother country impossible due to the danger of the return journey.
This document, however, is still quite valid. The existential delemna of home and heart weighed against stomach and uprootedness is ongoing, worldwide and, as this work shows, problematic.