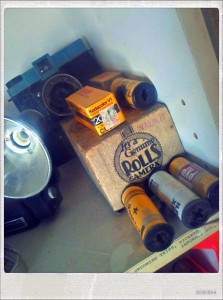 Bermaloid of the film shelf, May 2012
Commentary by Professor B KIller
Is it really over? Film? Well, actually that's impossible. Film is any medium that can hold an image (my translation).
But is it  that film that has silver on it on an "acetate" base is over with?
Pretty much.
I teach at a university. I've been there for four years. When I got there I was shocked to find out that they still had darkrooms. For one reason or another we kept them. I couldn't arrive on the job, announce "The Darkrooms Are Dead" and be the killer!
And, as we went on, the students kept saying, "We love this."
Well, some did. Soime hated it. Some loved and hated it. Many went on to be excellent photographers (in digital).
The point was that they were still learning some good lessons -as I and my generation did- in that dim room, swathed in yellow-red light, interacting with each other as they struggled with the old wet process of film and enlarged prints.
Cool but archaic.
So, here we are, at the end of another year, and as I look forward I struggle, once again, with the idea of being the Killer.
Anyone out there have any comments on this? Opinions? Experience with being the Killer Of The Darkroom or having fought off the axe of extinction?
Register on the blog and let me know.