Text by Bruce Berman
Arthur Rothstein was hand picked by Director Roy Stryker to be one of the original photographers for the Historical Section of the Resettlement Administration (later the Farm Security Administration/FSA). The unit was birthed to be an explainer for agriculture projects that benefited the agrarian sectors of Depression-ravish America. Rothstein's "eye" was excellent, his technical skills first rate and he always came back with the goods and then some.
Why doesn't he get the attention of Dorothea Lange or Walker Evans, or, even, Russell Lee?
Was it the cow skull "controversy?"
Perhaps.
For me this "controversy has always seemed,well… overblown. He moved the skull several times and then, finally, settled on the one we all know.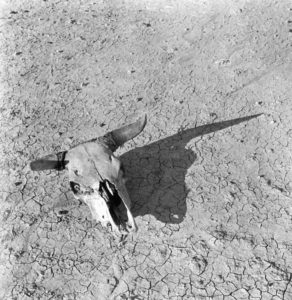 Was he (visually) lying?
I think not.
The skull was real and it was there, in the Badlands. The parched earth was real. There was a drought. Did he move the skull to get better light? Undoubtedly and admittedly. He said he was just experimenting with different light to get different textures. Opponents of the FSA claimed he was acting as a propagandist for the "socialist" FDR-created FSA.
As the profession of photography haas evolved, finally, we make a distinction between photojournalism and documentary photography. By the unwritten rulles of documentary the question would be, today, is this a true photograph of a real situation? The answer would be, yes!
By the rules of photojournalism (you know, photographers who are working for mainstream media which is losing credibility by the day and gaining red ink by the hour), it is a forgery. He moved the skull to make a better image.
Tsk.
None of that explains why Rothstein, who really was one of the first truly modern photographers, doesn't seem to have the fame and notoriety of his other fellow photographers at FSA. He certainly was more prolific than most of the other shooters, working at LOOK magazine from 1940 to 1971 (with one brief interruption of service). He remained at Look until 1971 when the magazine ceased publication. Mr. Rothstein joined Parade magazine in 1972 and remained there until his death. The irony of his "rejection" following the skull incident is that Rothstein, as photographer and later as an editor probably did more to define what modern photojournalism was and would become. He shaped a generation of photographers at LOOK. LOOK and LIFE, for over twenty five years were synonymous with the word photojournalism.
Rothstein transcended not only the 1930s, the fabled FSA and the Depression himself, his "experiments in the Badlands" may have been one of the reasons his work still seems moderne, animated and, well, cool!