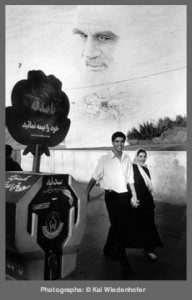 SEE: http://www.nbpictures.com/site_home/movie.php
GO TO: MENU>FEATURES>CURRENT AFFAIRS>IRAN'S YOUTH
This photo essay is of the youth of Iran. Kai Weidenhofer, who is a Middle East specialist gets to the truth of the matter: it's a small planet, so what's the big deal?
Problem is, there is a big deal and it is mostly not coming from the majority of people. These images are of the "Axis of Evil (still is the last time I looked at the New York Times)," and show the same old axis of hormones and joy and hope and desire that most young people in the world feel and express. Perhaps, in Weidenhofer's images, we see something more: That Iran's youth is innocent, smart and beautiful and these facts alone, receieved in the national-centric eyes of Americans, is radical, powerful and revolutionary.
Look at this slide show from nbpictures' site (http://www.nbpictures.com/site_home/movie.php).
Nothing opens and rivets attention like stopping life, in a still picture, and letting the "triangle," absorb: Heart/Eyes/Mind.
Note: Kai Wiedenhöfer, born in Germany in 1966, studied photojournalism at the Folkwang School in Essen and Arabic in Damascus, Syria. A photographer with Lookat Photos in Switzerland, he has worked in the Middle East since 1989. He has received numerous awards, most recently the Alexia Grant and a World Press Award.