Text by Bruce Berman
Arthur Rothstein was hand picked by Director Roy Stryker to be one of the original photographers for the Historical Section of the Resettlement Administration (later the Farm Security Administration/FSA). The unit was birthed to be an explainer for agriculture projects that benefited the agrarian sectors of Depression-ravish America. Rothstein's "eye" was excellent, his technical skills first rate and he always came back with the goods and then some.
Why doesn't he get the attention of Dorothea Lange or Walker Evans, or, even, Russell Lee?
Was it the cow skull "controversy?"
Perhaps.
For me this "controversy has always seemed,well… overblown. He moved the skull several times and then, finally, settled on the one we all know.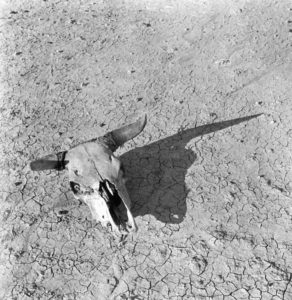 Was he (visually) lying?
I think not.