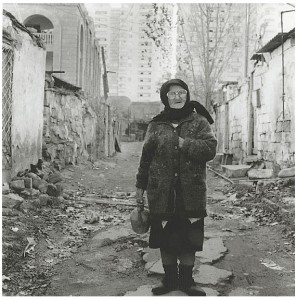 ©Rena Effendi
GO TO: http://www.fiftycrows.org/index.php#s=0&p=0&a=2&mi=2&pt=1&pi=10000&at=1
Displacement. A world wide problem. When the Grid comes you got to move no matter that there is no good place to go to from the bad place you have become accustomed to. It looks the same in Azerbaijan, Mexico DF, Lomas del Poleo, Chicago…wherever.
Rena Effendi takes us into the rarely seen inner Azerbajian, to the mahalla neighborhood in the capitol city of Baku.
Note on the photographer:
RENA EFFENDI (28), Azerbaijan, has been active as a photographer for the past four years. In that time, she has had exhibitions in Azerbaijan, Germany and France, contributed to numerous publications and lectured at UC's Berkeley's Graduate School of Journalism (USA). In 2004, she was the regional winner of the Fifty Crows International Fund for Documentary Photography competition and was awarded Azerbaijan's Photographic Master of the Year and Photographic Artist of the Year. Effendi is a member of PATKER, Caucasus Agency of Photojournalists and of Photographers.