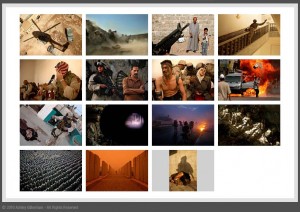 Contact Sheet of Ashley Gilbertson's Conflict Photography
"He has a very good news sense and for me that's really essential,"
says Cecilia Bohan, foreign picture editor for The New York Times.
"I need them [her photographers] to be my eyes and ears on the ground."
Ashley Gilbertson is a VII photographer and one of the strongest Conflict Photographers working today. His recent work, done far from the battlefield but in the bedrooms of fallen soldiers, is one of the strongest testaments to the outright sadness about Loss that War induces, that this editor has ever seen.
For a sample of Mr. Gilbertson's work:
For a personal website:SEE: http://www.ashleygilbertson.com/index.php
A piece  from 2004 in Photo District News, SEE: http://www.ashleygilbertson.com/index.php
For The Shrine Down The Hall, SEE:  http://www.nytimes.com/interactive/2010/03/21/magazine/20100321-soliders-bedrooms-slideshow.html?hp