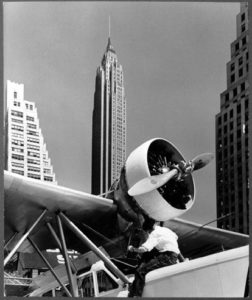 Andreas Feininger, born December 27, 1906, was a pioneer of modern photography. Born in Paris, son of the painter Lyonel Feininger, Andreas was educated in German public schools and at the Weimar Bauhaus. His interest in photography developed while he was studying architecture, and he worked as both architect and photographer in Germany for four years, until political circumstances made it impossible.
Feininger moved to New York, where he was a freelance photographer for the Black Star Agency and then for the U.S. Office of War Information (OWI). He became a staff photographer at LIFE magazine from 1943 to 1962.
Feininger was known for his photography of form, both architectural and natural. His images emphasize design, and clarity of form.
Feininger passed on February 18, 1999, New York City, NY.