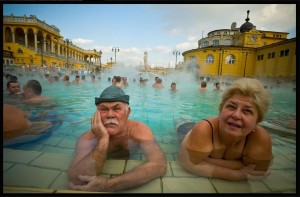 Hungary Baths by Amy Vitale©2011
From Ami Vitale's website (http://www.amivitale.com):
Ami Vitale's journey as a photojournalist has taken her to more than 75 countries. She has witnessed civil unrest, poverty, destruction of life, and unspeakable violence. But she has also experienced surreal beauty and the enduring power of the human spirit, and she is committed to highlighting the surprising and subtle similarities between cultures. Her photographs have been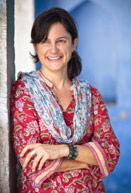 exhibited around the world in museums and galleries and published in international magazines including National Geographic, Adventure, Geo,  Newsweek, Time, Smithsonian. Her work has garnered multiple awards from prestigious organizations including World Press Photos, the Lowell Thomas Award for Travel Journalism, Lucie awards, the Daniel Pearl Award for Outstanding Reporting, and the Magazine Photographer of the Year award,  among many others.
Now based in Montana, Vitale is a contract photographer with National Geographic magazine and frequently gives workshops throughout the Americas, Europe and Asia. She is also making a documentary film on migration in Bangladesh and writing a book about the stories behind the images.