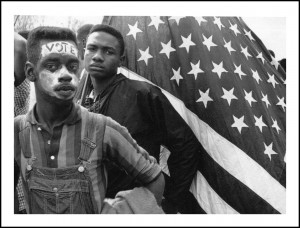 "Vote," Selma Voting Rights March, 1965
©Bruce Davidson
Sometimes we forget that the "Big Work," the work that one becomes known for making isn't all there is.
Bruce Davidson went south, from Chicago, on  instinct.
The world was shaking and he felt the vibe.
The time was now: Civil Rights.
Real change.
Without assignment or specific destination he "nailed it," and was able to work on the edges of the news, tell the story from a personal and deeply intimate viewpoint.
This image, for me, is one his best. Beautiful composition. Beatiful moment. Beautiful storyline. Iconic and packed with all the elements that make it a novel unto itself,  if this was the only photography that existed from the era it was shot in, it would, I think, be enough to tell the story of the struggle.
One word and one image: sometimes it's enough: Vote.
For More on Bruce Davidson: http://en.wikipedia.org/wiki/Bruce_Davidson_(photographer)